Reminder & Update Train-The-Trainer Sessions First Half of 2023
Dear Partners of SAP UCC München,
We are happy to invite you to the 2023 Train-the-Trainer (TTT) sessions of the SAP UCCs Munich and Magdeburg once again. Please find the updated schedule below with the new and adapted offerings marked bold. The first trainings already take place in the next two to three weeks. Please note that the registration for a training is possible until 7 days before its start. That's why we would like to encourage you to take your chance and sign up for the training offerings.

Please note that all sessions are sponsored by SAP University Alliances or other partners and thus, free of charge. However, please just sign up for TTT sessions you realistically can attend and cancel your reservation as soon as you know that you cannot make it.

Please find all information regarding the TTT sessions and the possibility to register for them in the SAP UCC TU Munich Portal (login with U-user): https://i04.sapucc.in.tum.de/portal/?sap-client=101&sap-language=EN#/trainings This page is being updated with changes and new trainings on a regular basis.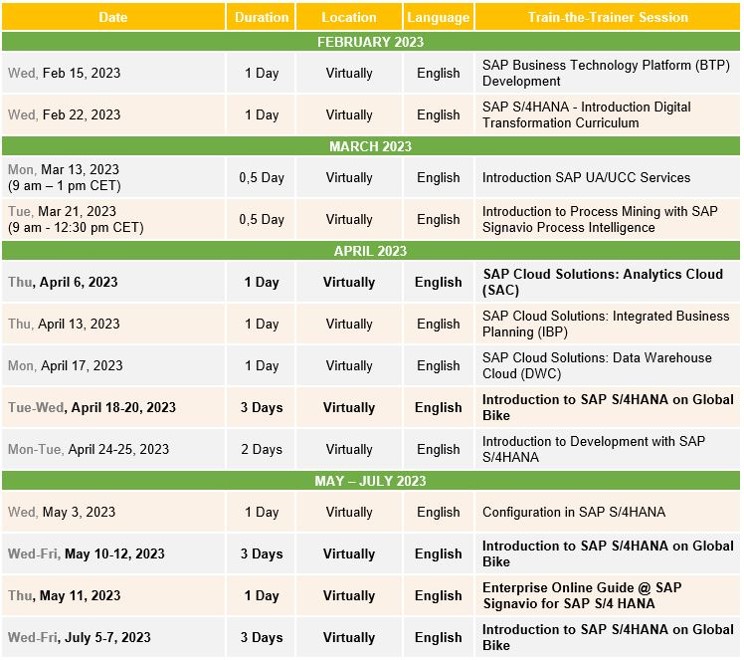 We hope that our offerings will meet your interest. We are looking forward to your participation in the TTT sessions. In case of any questions, please do not hesitate to contact us.

Kind regards,
Dr Holger Wittges
and the SAP UCC Munich Team